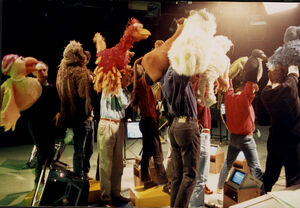 Emmy winner Andy Walmsley has had a long association with the Jim Henson Company as an art director and production designer.
Growing up in England in the 1970s, Walmsley was a Muppet fan with an interest in the technical aspects of how the productions were made. His early aspirations in puppet building and puppeteering finally gave way to a career as a Television and Theater Set Designer. Some of his set designing credits include: Buddy: The Buddy Holly Story, (Broadway/West End), Blood Brothers (Broadway/West End), Who Wants to be a Millionaire?, Slumdog Millionaire, So You Think You Can Dance, America's Got Talent and American Idol, which resulted in three Emmy nominations and one win.
Walmsley's first job, literally three days out of college, was as art director on The Ghost of Faffner Hall. Along with his art directing duties, Walmsley also performed a few background characters on occasion.
Walmsley first serious relationship was with Muppet Builder Maria Boggi.
Walmsley was involved in the pitch for The Hoobs television program.
In 2003, Walmsley moved to Los Angeles and, continuing the Henson connection, rented an office at the Jim Henson Studios.
In 2005, Walmsley designed the first presentation pilot for what would become the ABC sitcom The Muppets some 11 years later.
In 2006, Walmsley became the production designer for Late Night Buffet.
In 2017, Andy Walmsley designed The Muppets Take the Bowl, the largest live theatrical Muppet project ever undertaken, live for three nights at the Hollywood Bowl.
External Links
Community content is available under
CC-BY-SA
unless otherwise noted.