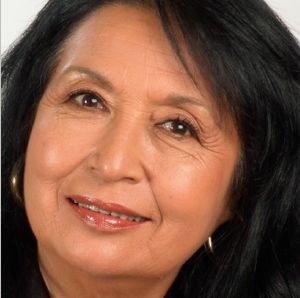 Angela Villanueva is a Mexican voice actress who has been heard in the Latin American Spanish dubs of several Muppet/Creature Shop projects, notably as Fran Sinclair on Dinosaurs.
Villanueva has been the primary Spanish speaking voice of Julie Andrews in a number of projects, including Mary Poppins, The Princess Diaries and its sequel, Eloise at Christmastime, and Enchanted. She has dubbed such notable actresses as Susan Sarandon in Thelma & Louise, Meryl Streep in The House of the Spirits, Vanessa Redgrave in The Pledge, Bette Midler in The Stepford Wives, Lauren Bacall in My Fellow Americans, Whoopi Goldberg in Eddie and Olivia de Havilland in Gone with the Wind.
More often, Villanueva dubs older supporting actresses, including Rosemary Harris in the Spider-Man movies, Gemma Jones in Sense and Sensibility and Bridget Jones: The Edge of Reason, Miriam Margolyes in Romeo + Juliet and James and the Giant Peach, Cloris Leachman in Alex & Emma, Brenda Blethyn in Pride and Prejudice, Jenny O'Hara in Matchstick Men, Celia Weston in The Talented Mr. Ripley and Pat Crawford Brown in These Old Broads.
Villanueva's TV dubbing assignments include Lillian Hurst on Lost, Jane Curtin on Third Rock from the Sun, and Roxann Dawson on Star Trek: Voyager. Cartoon roles include Mrs. Beakley on DuckTales, Sarabi in The Lion King, the Mouse Queen in The Great Mouse Detective, Babs in Chicken Run, and Lady Tottington in Wallace and Gromit in The Curse of the Were-Rabbit.
Muppet/Creature Shop Dub Credits
Community content is available under
CC-BY-SA
unless otherwise noted.