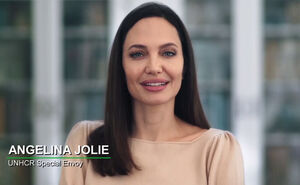 Angelina Jolie (b. 1975) is an Academy Award-winning actor, director, and activist. She has been active in the entertainment business since the early 1980s where she started working with her father Jon Voight, and as a humanitarian with the United Nations beginning in 2001.
Jolie appeared in the ABC documentary 50 Years of Sunny Days as a special envoy for the UN's High Commissioner for Refugees. She discusses the challenges faced by refugee children as a preamble to the documentary's focus on the creation of Ahlan Simsim. During her interview, she cites Count von Count as "the friendly vampire" who helped her learn how to count.
In addition to several directing credits, her acting roles include appearing in Hackers (with Felicity Huffman), Playing By Heart (with Gillian Anderson), The Bone Collector (with Denzel Washington), Girl, Interrupted (with Whoopi Goldberg), Mr. & Mrs. Smith (with Brad Pitt), two Lara Croft movies (the second of which featured effects from Jim Henson's Creature Shop), and the Kung Fu Panda film series (with Jack Black).
References
Jolie's name appears on CDE's chart of top 100 pop culture influences in The Muppets.
In an interview during the T4 Muppet Takeover, host Jameela Jamil asked Kermit which Hollywood star he would like to appear in a movie with — a question he interprets as "a freebie" — one of the actors he lists is Angelina Jolie.
Sources