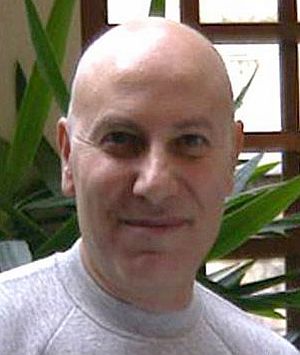 Angelo Nictora (b. 1948) is an Italian voice actor who has dubbed Gonzo in most of the Muppet movies, as well as DVD redubs of The Muppet Show.
Apart from Gonzo, Nicotra has dubbed Ratchet in the Transformers franchise, Mr. Potato Head in the Toy Story series, and often dubs Morgan Freeman (including Now You See Me, Lucy, and Transcendence). He also dubbed Elliott Gould in Ocean's Eleven and its sequels, Jeffrey Tambor in Hellboy, Robbie Coltrane in Nuns on the Run, John Goodman in Argo, Billy Connolly in An Everlasting Piece, Dabney Coleman in Moonlight Mile, Bob Gunton in Bats, and G. W. Bailey in several Biblical epics. Animation roles include Pinky on Animaniacs and Pinky and the Brain, Mr. Garrison on South Park, Superintendent Chalmers on The Simpsons, and various anime characters.
Dubbing credits
as Gonzo unless otherwise noted
External links
Community content is available under
CC-BY-SA
unless otherwise noted.