Premiere
February 24, 2003
Finale
April 4, 2003
Network
Discovery Kids
Seasons
1
Episodes
30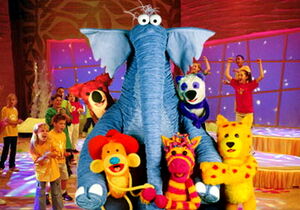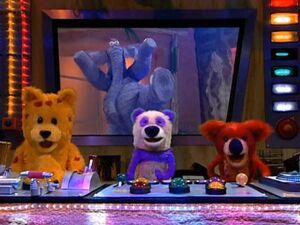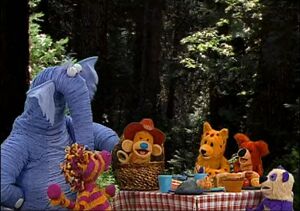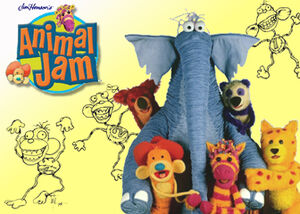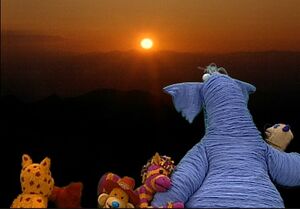 Animal Jam is a television show produced by the Jim Henson Company in 2003. The show is a wild, music-driven, live-action dance show designed to be "interactive," and encourages viewers to get up and dance along with the characters. The show is hosted by Muppet characters Edi and Waffle.
The show premiered on the TLC Network on February 24, 2003, and then moved to the Discovery Kids channel on March 3rd of the same year. Thirty episodes were produced, and several have been released on DVD.
The show also aired on Australian Broadcasting Corporation in Australia.
Format
Animal Jam uses real-life kids and puppet characters to teach movement and physical skills. Animal Jam hosts, Edi and Waffle, speak directly to the viewers at home and gets them physical active. The episodes consist of several physical themes including walking, flexibility, personal space, balance, jumping, marching, and physical expression. Each episodes has original songs followed by real animal footage that inspire dances and recurring games songs that viewers must follow along.
Cast
Credits
Creator: John Derevlany
Executive Producer: John Derevlany, Halle Stanford, David Gumpel
Co-Executive Producer: Ritamarie Peruggi
Producer: Brenda White
Co-Producers: Omar Camacho, Megan Hope-Ross
Directors: Dean Gordon, David Gumpel, Jimmy Huckaby
Writers: John Derevlany, Mark Hoffmeier, Mark Palmer, Bradley Zweig
Puppet Coordinator: John E. Kennedy
Production Designer: Mark Garner
Character Design: Ed Eyth, Paul Andrejco
Project Supervisor & Puppet Costume Designer: Jason Weber
Supervising Music Producers: Michael and Patricia Silversher
Choreography Supervised: Halle Stanford
Production Choreographer: Myles Thoroughgood
Theme Song: Peter Lurye
Songs: Michael and Patricia Silversher, Dave Bassett, Amy Powers, Mike Himelstein, John Rosenberg
Opening Title: Visual Flux
Taped at The Disney-MGM Studios, Florida
See also
External links
Community content is available under
CC-BY-SA
unless otherwise noted.