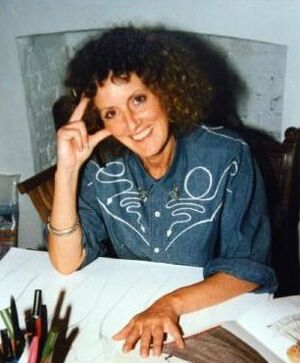 Ann Hollowood (ca. 1942-2014[1]) was a costume designer who worked on many Muppet/Creature projects. Her first association with the Muppets came during the 1975 special Julie: My Favorite Things, for which Hollowood costumed Julie Andrews (including her Muppet skits).
She continued on to The Muppet Show, costuming many guest stars across all five seasons. Among others, she supplied slinky outfits for Rita Moreno, Shakespearean garb for Christopher Reeve, the spooky outfit for Vincet Price's finale, Brooke Shields' "Alice" dress, and both gangster suit and meditation outfit for James Coburn. For the 1981 The Muppets Go to the Movies, she supplied the array of movie character outfits for Dudley Moore and Lily Tomlin.
In the 1980s, Hollowood began designing fantasy costumes for Creature Shop projects, most notably The StoryTeller. For her work, she received a BAFTA award in 1988. She would share another BAFTA nomination, with Polly Smith, in 1991 for The StoryTeller: Greek Myths. Hollowood also supplied more down to earth costumes for the Jim Henson Hour installments "Monster Maker" and "Living with Dinosaurs." In 1998, she won an Emmy for Oustanding Costume Design in a Miniseries or Movie, for her work on Merlin.
Away from Henson, Hollowood designed costumes for the 1968 TV series The Railway Children, Edward the King (sharing her first Emmy, for Outstanding Costume Design), Disraeli: Portrait of a Fanatic (with Ian McShane), the TV movies The Ten Commandments and The Magical Legend of the Leprechauns, and the films Vroom, Night Breed, and The Second Jungle Book: Mowgli and Baloo.
After her death in 2014, the Ann Hollowood Prize for Costume Design was established in her honor at the Wimbledon College of Art.
Credits
Sources
External links