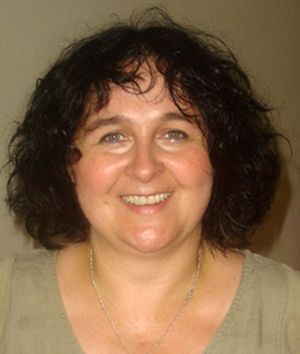 Anna Apostolakis (b. 1960), also credited as Anna Apostolakis-Gluzińska, who dubbed Shelley Snipes in Muppety z Kosmosu (Muppets from Space). She was also heard in a few episodes of Świat Elmo (Elmo's World), as the Lecture Lady or other narrators for TV segments.
Apostolakis has worked largely in cartoons, dubbing Sniffles and others in Looney Tunes shorts, Bonnie Hops in Zootopia, Wardrobe in Beauty and the Beast, the Sea Hag on the 1960s Popeye series, Cleo on Heathcliff, Storm on X-Men Evolution, Eustace's mother and others on Courage the Cowardly Dog, the title role on Chowder, and Clarabelle Cow on Mickey Mouse Clubhouse.
In live-action films, Apostolakis dubbed Bette Midler in The Stepford Wives and Molly Shannon in Santa Clause 2. She most often dubbed older character actresses such as Reta Shaw in Mary Poppins, Franziska Troegner in Charlie and the Chocolate Factory, Anne Ramsey in The Goonies. She is a busy voice director as well, including the dubs of The Amazing Spider-Man and sequel, The Spy Next Door, and the 2014 version of Annie.
External links
Community content is available under
CC-BY-SA
unless otherwise noted.