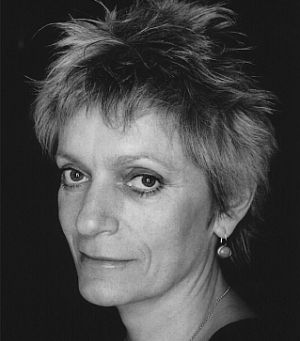 Anne Lambton (b. 1954) is a British actress and writer who appeared in two Creature Shop productions, in a key supporting role in The Witches (as a menacing witch known only as "Woman in Black") and a bit part in Gulliver's Travels, visiting Gulliver in Bedlam.
The daughter of the late politician Lord Lambton, she spent stints as part of Andy Warhol's entourage and in various odd-jobs in the United States of America before returning to England to study drama. Lambton entered film in 1986, with named supporting roles in Sid and Nancy and the thriller Half Moon Street (with Michael Caine). Smaller parts followed in Howards End, One Night Stand (as a mugger), American History X, and Mrs. Henderson Presents, plus a co-starring role in Love Is the Devil: Study for a Portrait of Francis Bacon (opposite Derek Jacobi).
In US television, Lambton had a recurring role on the sitcom Soul Man, as housekeeper Glenda in the second season, and guest starred on The Nanny. In 2006, she returned to British television, guest starring on Rosemary and Thyme, and the following year, she published her first short story collection, LA Mirage.
Character Roles
External links