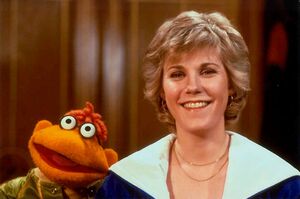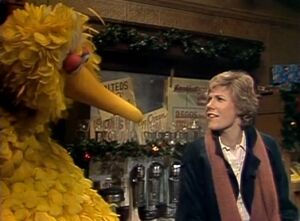 Anne Murray (b. 1945) is a popular Canadian singer, hailing from Springhill, Nova Scotia. She performed her signature song "Snowbird" on The Muppet Show episode 415.
Other hits include "Danny's Song," "Could I Have This Dance," and the international #1 smash "You Needed Me."
During the '70s she recorded a children's album called There's a Hippo in my Tub, which was released in the USA in 1979 under the title Anne Murray Sings for the Sesame Street Generation.
Murray also appeared in A Special Sesame Street Christmas; she sang her hit "You Needed Me" to Big Bird and appeared to Oscar the Grouch as the Ghost of Christmas Past. She had previously performed in a musical number with Big Bird on Good Evening, Good Morning in 1974.
She later performed a duet with Miss Piggy on the musical Anne Murray: The Sounds of London, which aired on CBC-TV in 1985.
She has won numerous Grammy Awards and American Music Awards, as well as a number of Juno Awards in Canada.
Murray was inducted into the Canadian Music Hall of Fame in 1993, and the Canadian Country Music Association Hall of Fame in 2002.
Her company, Balmur Entertainment, owned Toronto's The Animation House Limited, during its final years.
External links