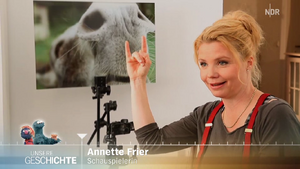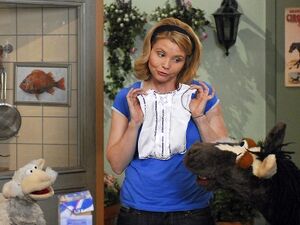 Annette Frier (b. 1974) is a German actress and comedian who plays Annette on Sesamstrasse from 2005 to 2009.
Frier appeared in the 2013 documentary Als die Sesamstrasse nach Deutschland kam ("When Sesame Street Came to Germany"), talking about her experience working on the show.
For Sesamstrasse's 2013/2014 season, Frier temporarily replaced Julia Stinshoff in the tree house segments with Elmo.
Interestingly, she's a regular on Alles außer Sex (translates as Everything But Sex), a show said to be in the vein of Sex in the City. The German Sesame Street production isn't her first street role, as she was a regular on improv comedy show Schillerstraße.
External links