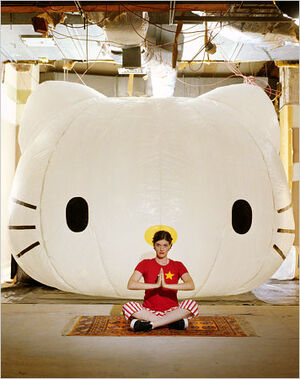 Anney McKilligan Ozar (also known as Anney Fresh and Anney Ozar) is a freelance puppet builder, wrangler, and puppeteer who often works at the Jim Henson Company in New York City. She garnered eight Daytime Emmy nominations for Outstanding Achievement in Costume Design/Styling for The Book of Pooh, Bear in the Big Blue House, and Sesame Street with wins in 2007, 2009, and 2010 for Sesame Street. She can be seen briefly in the Sesame Street episode of inFANity making iPod earbuds for Snuffy in a Season 40 segment. Anney built Miss Piggy's famous Louboutin pumps.
At the 2000 Henson International Festival of Puppet Theater, Anney puppeteered and designed costumes for Janie Geiser's production of "Night Behind the Windows". Also at the 2000 festival, Anney designed costumes for The Cosmic Bicycle Theatre's "Assemblage of Souls". As pictured, she is accomplished in the field of large inflatables, and is a member of an arts collective known as the Madagascar Institute of Brooklyn, NY. She was also part of the original cast of the reality show Artstar, which airs on the Gallery HD Channel. She referees/judges at the Idiotarod Shopping Cart Race and sings with the Loser's Lounge at Joe's Pub in New York City. She travels internationally with her inflatable costume project, Space Kittys, which is documented on her blog and YouTube Channel.
Credits
Non-Muppet Credits
External links
Community content is available under
CC-BY-SA
unless otherwise noted.