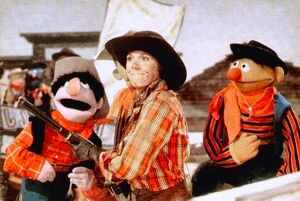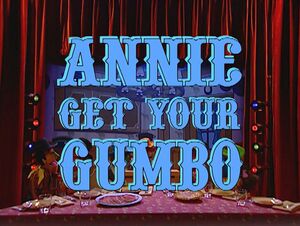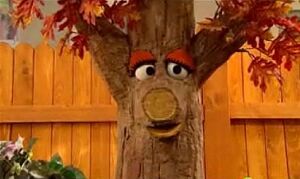 Annie Get Your Gun is a musical by Irving Berlin, about real-life sharpshooter Annie Oakley, as told to the audience by Buffalo Bill. With a book by Herbert and Dorothy Fields, it premiered on Broadway in 1946, starring Ethel Merman. Famous songs include "Anything You Can Do" and "There's No Business Like Show Business," both of which have been performed by the Muppets.
Songs Performed by the Muppets
-Julie Andrews and the Sesame Street Muppets on Julie on Sesame Street.
"There's No Business Like Show Business"
-Performed by Ethel Merman and the Muppets on episode 122 of The Muppet Show.
-Performed by the Muppets on episode 412 of The Muppet Show.
-The Muppet Show Live featured a parody of the song, "What Happened to Show Business".
-The Muppets: A Celebration of Thirty Years featured the Ethel Merman recording in a clip montage at the beginning of the special.
References
On Sesame Street, a "Dinner Theatre" segment was presented as "Annie Get Your Gumbo" in Episode 4155. A family who eats gumbo together, sings about it together with the parody song "There's No Dinners Like Family Dinners".
Connections
External links