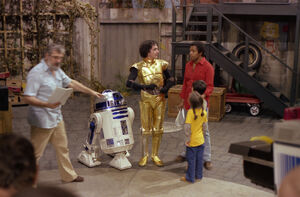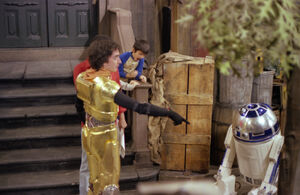 Anthony Daniels (b. 1946) is a British actor best known for his portrayal of C-3PO in the Star Wars franchise. Daniels wore the suit and provided the voice for the character in the original films and in guest appearances on The Muppet Show and Sesame Street. He has also supplied the droid's voice in spin-off audio dramas, video games, and animated series. Pre-Star Wars credits included stage work and roles in numerous BBC radio dramas. Other credits include the voice of Legolas in Ralph Bakshi's animated The Lord of the Rings and appearances on Young Indiana Jones and Prime Suspect.
In a 2001 interview, Daniels stated the following about working with the Muppets:
In the same interview, Daniels makes mention of the "slight danger" involved in filming the show. The C-3PO suit provides the performer inside with limited vision. At the same time, all of the actors appearing with the Muppets worked on elevated sets. "It would have been all too easy to fall into the pit at my feet." Always the humorist, he added, "I'm sure Frank would have made a soft landing, but Piggy would not have been amused."[1]
Daniels also mentioned that he received a "silver Kermit" as a gift, over dinner at Julie's during the filming of his episode.
Daniels briefly discusses his appearances on The Muppet Show and Sesame Street in his 2019 autobiography I Am C-3PO: The Inside Story.
External links
Sources
↑ Star Wars Insider #55, "Anthony Daniels Talks About the Muppets"