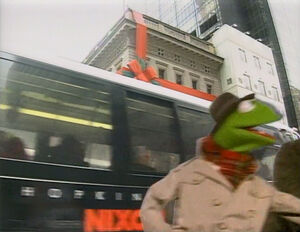 Anthony Hopkins (b. 1937) is a Welsh actor, director, and composer. Active as an entertainer since the 1960s, his most notable role is that of Hannibal Lecter in The Silence of the Lambs, which won him an Academy Award in 1991.
Hopkins attended The Muppets World Premiere in 2011 with his wife Stella Arroyave and guest where he greeted the press for questions and photos. He told one reporter that Kermit the Frog was his favorite Muppet, and toyed with another about being Kermit the Frog. His companions cited Miss Piggy and Fozzie Bear as their favorites, while Hopkins acknowledged the Muppets' fame in the United Kingdom and offhandedly responded agreeably to theoretically appearing in a Muppet movie someday.
Hopkins' credits include reprising Hannibal Lecter in 2001's Hannibal (with Julianne Moore) and 2002's Red Dragon (with Ralph Fiennes), as well as The Lion in Winter (with Peter O'Toole), A Bridge Too Far (with Michael Caine), The Elephant Man (with John Hurt), Howard's End (with Vanessa Redgrave), the Francis Ford Coppola-directed Bram Stoker's Dracula (with Gary Oldman), Chaplin (with Robert Downey, Jr.), The Remains of the Day (with Christopher Reeve), Shadowlands (with Debra Winger), Legends of the Fall (with Brad Pitt), the title role in Nixon (with Mary Steenburgen), Surviving Picasso, The Edge (with Alec Baldwin), the Steven Spielberg-directed Amistad (with Morgan Freeman), The Mask of Zorro (with Antonio Banderas), Instinct (with Cuba Gooding, Jr.), William Shakespeare's Titus (with Alan Cumming), Mission: Impossible 2 (with Tom Cruise), the narrator in Ron Howard's How the Grinch Stole Christmas (with Jim Carrey), three Thor movies for Marvel Studios, the title character in Hitchcock (with Helen Mirren), Noah (with Jennifer Connelly), and a starring role on HBO's Westworld TV series.
References
During Reporter Kermit's segment in Elmo Saves Christmas, a bus passes by behind Kermit adorned with a poster for the 1996 movie Nixon featuring Hopkins' name sprawled across the top.
Hopkins is one of several actors Kermit mentions he'd like to work with in a March 19, 2012 Entertainment Tonight interview.
Uncle Deadly tweeted in 2016 that he lost the part of Hannibal Lecter to Hopkins.[1]
Sources
Community content is available under
CC-BY-SA
unless otherwise noted.