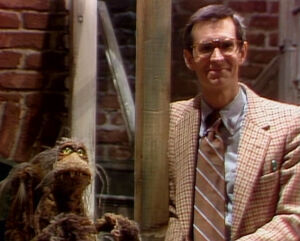 Anthony Perkins (1932-1992) was an actor who played earnest love interests in film and stage before truly making his mark on cinema as Norman Bates in Alfred Hitchcock's Psycho. He reprised the Bates role thrice, and it influenced much of his later work. Perkins' other credits ranged from Friendly Persuasion (for which he received an Academy Award nomination for best supporting actor) to Stephen Sondheim's television musical Evening Primrose and Agatha Christie's Murder on the Orient Express.
Perkins appeared as the guest host on the Saturday Night Live broadcast of March 13, 1976. During the episode, Perkins finds one of his skits is interrupted by Scred. He listens politely but somewhat aloofly to pleas from Scred and King Ploobis to have some part in the show, and offers them the use of his dressing room (apparently a lavatory). Enduring one more interruption, Perkins finally graciously introduces the Muppets at the closing, but only as the credits roll.
External links
Community content is available under
CC-BY-SA
unless otherwise noted.