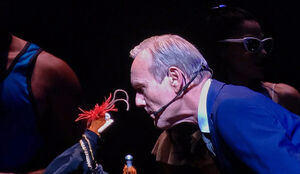 Anthony Stewart Head (b. 1954) is an actor whose earliest prominent role was in a series of Nescafé commercials in the 1980s, and later became well-known for playing Rubert Giles for seven years on Buffy the Vampire Slayer.
Head appeared in the July 14 performance of The Muppets Take the O2 attempting to recite William Wordsworth's "I Wandered Lonely as a Cloud" alone on stage for the audience. Several lines into the poem, he's called away by Pepe over the loudspeaker to take a call from his "champagne guy". In his absence, Pepe leads a dance party, Head returns to ask what's going on, Pepe claims the oration is boring, and Head struggles to elucidate the beauty in the words. Reaching the word "dance" in the poem eventually kicks off the rave again, which Head eventually joins, following the group off-stage. He returned at the end of the program with the full cast for the show's finale.
Head's other TV roles include playing Uther Pendragon in BBC One's Merlin TV series, the Prime Minister in Little Britain, headmaster Finch in the Doctor Who episode "School Reunion", four episodes of Syfy's Warehouse 13, and the main cast of Syfy's Dominion. In film, he appeared in Woody Allen's Scoop (with Hugh Jackman and Ian McShane), Tim Burton's Sweeney Todd (with Johnny Depp, Helena Bonham Carter, and Alan Rickman), The Iron Lady (with Meryl Streep and Jim Broadbent), Marvel Comics' Ghost Rider: Spirit of Vengeance, Percy Jackson: Sea of Monsters (with Stanley Tucci and Nathan Fillion), and Alfred Pennyworth in Batman: Gotham by Gaslight (with Bruce Greenwood).