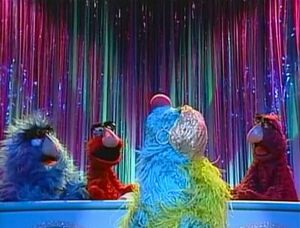 Anything Goes is a Broadway musical with music and lyrics by Cole Porter, and a collaboration on the book by multiple authors, including P.G. Wodehouse. The story is a love triangle aboard an ocean liner bound from New York City to London, where nightclub singers, mobsters, heiresses, and Royalty intermingle in a game of mistaken identities and cat and mouse.
Songs performed by the Muppets
- Wayne & Wanda, The Muppet Show, episode 110
- Kermit & Ethel Merman, The Muppet Show, episode 122
"Friendship" (from the 1962 revival of Anything Goes)
- Ethel Merman & Fozzie Bear, The Muppet Show, episode 122
- Kermit the Frog and Robin, The Muppet Show, episode 519
- Dolly Parton & Miss Piggy on Dolly
References
Telly Monster also sang a parody of the titular song, "Everything Goes", as he packs for a day in the park.
Connections
External links
Community content is available under
CC-BY-SA
unless otherwise noted.