Written by
Irving Berlin
Date
1946
Source
Annie Get Your Gun (musical)
Publisher
Irving Berlin Music. Co.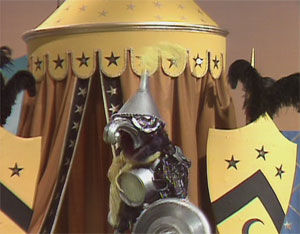 "Anything You Can Do" is a duet in which both the performers brag about their abilities and claim to be able to do everything "better". It was originally written for a man and a woman in Annie Get Your Gun; that version was performed on Broadway by Ethel Merman. The song in this form can be considered a feminist anthem, with the woman challenging the man in abilities which include hunting, digging, bartering, drinking, and horseriding. The song has been performed by the Muppets on several occasions.
Kermit 1: I can be on TV, where the people see me.
Kermit 2: I can be in person, and without rehearsin'.
Kermit 1: Lots of people know my face.
Kermit 2: That face there?
Kermit 1: Yes.
Kermit 2: I don't care.
Performed by a robot on the July 22, 1966 show.
performed by Ethel Merman and Miss Piggy on episode 122. An excerpt of "Anything You Can Do" is sung in the Ethel Merman medley, during which the two divas battle it out for the top spot. When Piggy claims "I can sing anything higher than you," Merman contests. But Piggy eventually hits a note so high and loud that Merman gives up, admitting "Yes, you can."
performed by Gonzo and Floyd Pepper, as rival knights in episode 305. An excerpt of the song was used during another medley, the Camelot sequence that served as the episode's closing number.
Sources