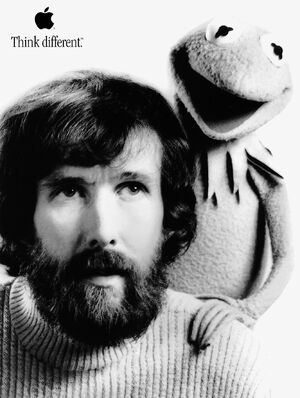 Apple Inc. is a major manufacturer of computers, related personal consumer electronics and services (including Apple TV+), and operating systems, co-founded by Steve Wozniak and Steve Jobs.
Mentions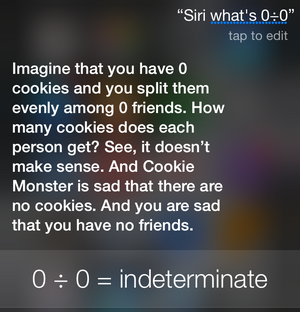 When the company was known as Apple Computer Inc., it produced a commercial for one of the first iMac desktops in 1998, and used Kermit the Frog's recording of "Bein' Green" for the sage-colored version. (YouTube)
The 1984 Apple Computer Annual Report to Stockholders featured special two-page spreads focusing on various artists and work samples they had produced on an Apple computer. One of the personalities featured was Jim Henson.
In 2014, an Apple-produced film (read "30-second ad") by TWBA/Media Arts Lab included a split-second image of Cookie Monster as a sticker on an Apple laptop.[1]
On the iPhone iOS 8 system (and later versions), if you ask Siri what zero divided by zero is, she responds "Imagine that you have zero cookies and you split them evenly among zero friends. How many cookies does each person get? See? It doesn't make sense. And Cookie Monster is sad that there are no cookies, and you are sad that you have no friends."
Cookie Monster appeared in a March 2016 commercial for the iPhone 6s called "Timer" in which he interacts with Siri. While baking cookies in a kitchen, he asks Siri to set a timer for baking his cookies. Jim Croce's "Time in a Bottle" plays over the ad. The commercial appeared in at least 14 different languages, with some visuals such as the fonts visible on a cookie box in the background, the cook book and the iPhone display adjusted for each market. An outtakes video with several more scenes and sets was also released online around the same time.
Appearances
References
On Sesame Street, occasionally a computer's main screen would sport a banana for a logo, parodying Apple's logo.
The computer seen at the end of the "Bohemian Rhapsody" viral video features the top taskbar from a Mac, plus the bottom task bar from a PC.
When King Arthur and his knights are looking for something to do in Muppet King Arthur #3, Mordred (Robin the Frog) suggests they search for the Holy Grail and uses his AyePad to illustrate the artifact.
In the cold open for her November 2011 appearance on The Tonight Show, Miss Piggy uses an iPhone to ask Siri about her appearance and her new film The Muppets.
When asked if she has an iPhone, Miss Piggy answered, "I do. Mine is called a moiPhone. It's the same thing as an iPhone, but I put my picture all over it."[2]
In an interview with CNET, Kermit is asked what his favorite gadgets are. He lists iPads, iPhones, and an iPig (which enables Miss Piggy to keep track of him).[3]
Software
See also
Sources
External links