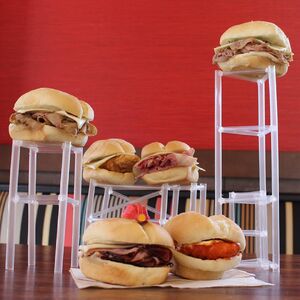 Arby's is a fast-food sandwich restaurant chain founded in 1964 in the U.S. best known for roast beef sandwiches.
They have featured two promotions for Sesame Street projects in their kids meals. One for The Adventures of Elmo in Grouchland as well as Elmo Saves Christmas.
Muppet Mentions
In January 2017, Arby's released an ad featuring Doozer towers made from straws and a Doozer hat on a sandwich with the caption, "That's what Doozers like to do." This was part of a series of ads featuring references to many movies, television series and video games from the pop culture lexicon, including Pokémon, Wonder Woman, Star Wars, Futurama and Game of Thrones.
On February 10, 2017, Arby's created a Labyrinth themed Valentine's Day card during a Facebook live video which featured Ludo.