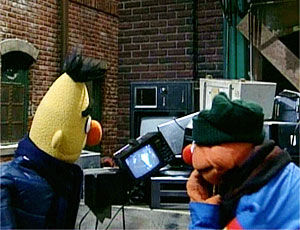 It has been stated in numerous articles, websites, and television shows that Bert and Ernie from Sesame Street were named after two characters from the film It's a Wonderful Life, Bert the policeman and Ernie the cab driver. The statement often surfaces around Christmas, or in filler "trivia" columns in newspapers.
There has never been any official confirmation of this statement. On the contrary, most sources from the Henson company have claimed it to be merely a coincidence.
The old Ask Henson.com website featured this response:
"While Bert and Ernie's names have often been linked to those of the cop and cab driver in It's A Wonderful Life, Jim Henson and others have always said that that is just a coincidence. Apparently, Bert's and Ernie's names were picked just because the creators/writers liked them, they fit the characters, and they sounded good together."
A more in-depth response was given by Jerry Juhl, writing to The San Francisco Chronicle to correct the "Annual Xmas Quiz" from December 27, 1999:
"I was the head writer for the Muppets for 36 years and one of the original writers on Sesame Street. The rumor about It's a Wonderful Life has persisted over the years.

I was not present at the naming, but I was always positive it was incorrect. Despite his many talents, Jim had no memory for details like this. He knew the movie, of course, but would not have remembered the cop and the cabdriver. I was not able to confirm this with Jim before he died, but shortly thereafter I spoke to Jon Stone, Sesame Street's first producer and head writer and a man largely responsible for the show's format. (Jon, sadly, is no longer with us either.)

He assured me that Ernie and Bert were named one day when he and Jim were studying the prototype puppets. They decided that one of them looked like an Ernie, and the other one looked like a Bert. The movie character names are purely coincidental.[1]"
The show referenced the persistent rumor in the 1996 special Elmo Saves Christmas. In one scene, Ernie and Bert walk by a TV set, which is playing the movie. The pair are surprised by the following dialogue: "Bert! Ernie! What's the matter with you two guys? You were here on my wedding night!"
The rumor has been reinforced by various sources, including Sesame Workshop, through their 35th anniversary trivia quiz on Sesamestreet.org,[2] the Sesame Street Live Facebook page,[3] and even by Sesame Workshop CEO Gary Knell.[4]
Sources
Community content is available under
CC-BY-SA
unless otherwise noted.