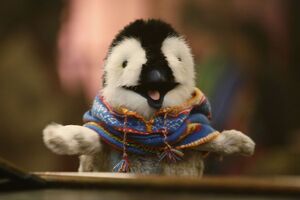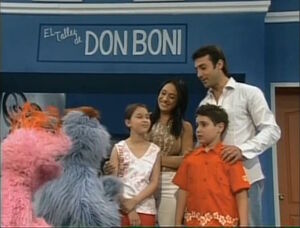 Argentina is a South American country and, along with Chile, it occupies much of the Southern Cone. It is the largest Spanish-speaking country in South America. Its contributions to popular culture include the tango, which became a popular dance in North America (including a certain street).
Penguins, particularly the Magellanic penguins, are among the native fauna. One infant penguin, christened Gloria Estefan, was in fact rescued by Miss Piggy (and given a colorful poncho) when Piggy returns from her Argentine vacation in The Muppets episode "Swine Song."
One of Argentina's significant industries is in the field of confectionery. A Sesame Street film insert features a girl from Buenos Aires visiting her abuelo's candy factory and watching him make mazapán (marzipan) figures and other sweets. (First: Episode 3171) The clip was also used in a "Global Grover" segment. (First: Episode 4079) Grover returns from Argentina and talks about the difficulty of swimming the Panama Canal while clutching a box of candy.
Plaza Sésamo, as the Latin American co-production of Sesame Street, has featured Argentinian performers, characters, or film footage. During the show's tenth season in 2006, a family moved to the plaza from Argentina and appeared in multiple episodes (with the daughter missing her homeland).
Not to be outdone by Piggy and the Sesame Muppets, Kermit the Frog visited Argentina in 2011, making guest appearances on Art Attack hosted by Emiliano Pandela.
Community content is available under
CC-BY-SA
unless otherwise noted.