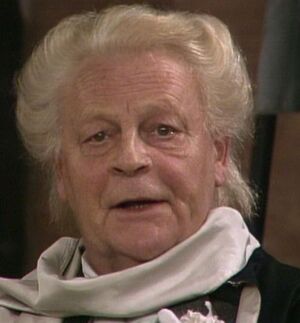 Arnold Marquis (1921-1990) was a German voice actor who dubbed the Skeksis General in Der Dunkle Kristall (The Dark Crystal). He was also heard on Sesamstrasse, dubbing the Dollar Gang boss in the "Verkehrswestern" film segments.
Marquis was best known as the German voice of John Wayne. In addition, he frequently dubbed George C. Scott, Kirk Douglas, Jack Palance, James Coburn, and more occasionally Telly Savalas and Burt Lancaster. He also dubbed Admiral Ackbar in Return of the Jedi, John Gielgud in Falstaff, Slim Pickens in Blazing Saddles, Jonathan Winters in The Loved One, and Robert Beatty in 2001: A Space Odyssey. In animation, he dubbed several Disney characters including Pete in the shorts, the huntsman in Snow White and the Seven Dwarfs, the Colonel in 101 Dalmatians, King Richard in Robin Hood, the Prince of the Forest in Bambi, Sykes in Oliver and Company, and the narrator in The Sword and the Stone. Other cartoon roles included Getafix in some of the Asterix movies (and record albums), Napoleon in Animal Farm, the narrator in the Tom and Jerry shorts, the cat in The Last Unicorn, and Noah in the German animated film Stowaways on the Ark.
On-camera, Marquis appeared in episodes of Tatort and with Otto Waalkes in the film comedy Otto - Der Außerfriesische.
External links