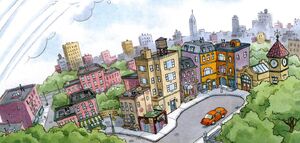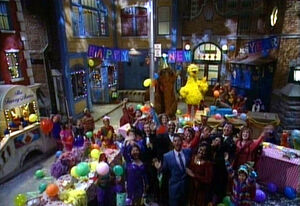 Beginning with Season 25 in 1993, Sesame Street's set expanded Around the Corner to feature a whole new block of locations. The new set first appeared in the season premiere, when Big Bird and his friends first visited the Park.
According to Sonia Manzano, "By expanding the street and going around the corner, we will have other places to hang out beyond the stoop of 123 Sesame Street, and we will be able to explore family issues which we think are so important to kids today."[1]
After Season 29, the Around the Corner sets and most of the new characters were dropped from the show. The Around the Corner locations made their final appearance in The Adventures of Elmo in Grouchland.
According to Martin P. Robinson:
Locations
10 Sesame Street, a two-story building. The lower floor is occupied by Finders Keepers, a thrift shop full of objects from fairy tales and nursery rhymes, owned by Ruthie. The top floor contains a dance studio owned by dance teacher Celina.
Merchandise
A storybook, Around the Corner on Sesame Street, was published in 1994 to showcase the new locations and characters. Elmo's Lift-and-Peek Around the Corner Book, from 1996, served a similar purpose.
Before and after expansion
Before the set expansion in 1993, the street that would become "Around the Corner" was often just a painted backdrop if it was seen in shots at all. A city bus would frequently come from this direction to stop on the corner as seen in Episode 1396, among others. The apartment complex where David's mother lived could be reached from this street in Episode 0725.
After 1998, the Around the Corner area has been shortened into a dead-end alley way, usually where various wooden crates and metal oil barrels are kept. From time to time, Oscar's Sloppy Jalopy can be seen parked there (such as Episode 3921).
In Episode 4109, Abby Cadabby tells Big Bird that her home is "around the corner," although she doesn't specify which corner.
Sources