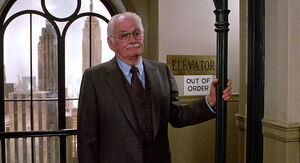 Art Carney (1918-2003) was an actor whose career spanned stage, radio, and film, but who first gained true fame as Ed Norton on television's The Honeymooners.
For Jim Henson, Carney starred in the 1970 Christmas special The Great Santa Claus Switch, playing dual roles, as Santa Claus and Cosmo Scam. He also appeared in the 1972 special The Perry Como Winter Show, alongside the Muppets. In 1984, Carney played Bernard Crawford in The Muppets Take Manhattan.
Early in his career, as a New York radio actor in the 1930s and 40s, Carney performed on such old-time radio series as Gangbusters and Inner Sanctum and impersonated president Franklin Delano Roosevelt on The March of Time and General Dwight D. Eisenhower on various wartime patriotic shows. The actor was himself drafted, and fought at the Battle of Normandy. Although acclaimed as a comedian for his Honeymooners work, Carney evaded typecasting, proving himself a sensitive and versatile character lead on stage (originating the role of Felix Ungar opposite Walter Matthau in The Odd Couple on Broadway) and in films (netting a 1974 Academy Award for the lead in Harry and Tonto).
External links
Community content is available under
CC-BY-SA
unless otherwise noted.