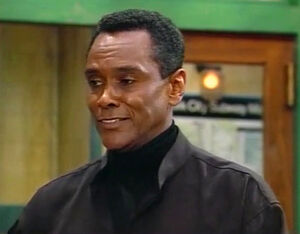 Arthur Mitchell (1934-2018) was a dancer (specializing in classic ballet) and choreographer who founded the Dance Theatre of Harlem in 1969. He appeared on Sesame Street in episode 3320 (1995), where Ruthie wants to join the dance company. Mitchell encourages her to keep practicing and later introduces the troupe's production of "A Home in the Sky."
Mitchell joined the New York City Ballet in 1955, becoming the second African-American member. He rose to principal dancer and performed in Agon (doing a highly acclaimed pas de deux), A Midsummer Night's Dream (Puck), Don Quixote (dancing the Rigaudon flamenco), and in a Playhouse 90 TV version of The Nutcracker (for the Arabian coffee dance).
Before his ballet career started, Mitchell danced in the ensemble of the Broadway musicals Four Saints in Three Acts and House of Flowers and later assistant choreographed the short-lived 1957 musical Shinbone Alley.
External links