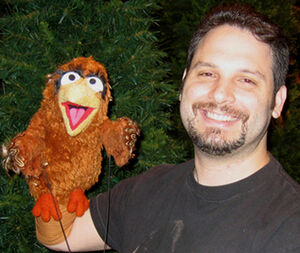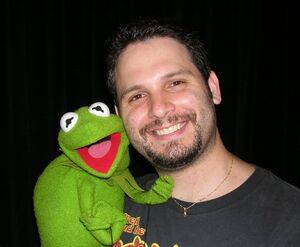 Artie Esposito (b. October 9, 1975) is a puppeteer who has performed in a number of projects for Sesame Workshop, The Jim Henson Company, and The Muppets Studio.
For a time, Esposito was the understudy performer for Kermit the Frog and performed the character publicly at least three times. In addition, he has built puppets for Jim Henson's Creature Shop, and is a member of Jim Henson's Stuffed and Unstrung troupe.
Esposito also served as a consultant for Palisades Toys on their lines of Sesame Street and Muppet action figures.
Muppet/Henson credits
Henson Alternative credits
Stuffed and Unstrung - Various
The 53rd Annual Grammy Awards - Back-up Dancer (assist)
Ain't It Cool - Harry Knowles Puppet
Yahoo.com Upfronts - "Old Man" Miskreant Puppet
Non-Muppet credits
Team Smithereen - Splat McKat, Marco Rat
"Weird Al" Yankovic "Polka Face" Music Video - Tuba Yeti
The Dummiez - Eboneeza Screwed
Jib Jab 2010 Year in Review - Arnold Schwarzenegger
The Simpsons – Homer Simpson (puppetry)
Warren the Ape – "Frizzies" Gang Member
The Pee-wee Herman Show (2010) – Chairry (puppetry)
Mind of Mencia – Shoe Puppet, M-16 (voice)
Crank Yankers – Elmer Higgins, Tony DeLoge, Deaf Frat Guy, others
Baby Einstein "Einstein Pals" Commercial – Pablo, Millie, Winston
Jimmy Kimmel Live – LOST puppets
Eminem "Ass Like That" Music Video – Bunraku Dancer, Spoonie Luv
Taco Bueno "Cooking with Suzie" Commercial – Various
2005 MTV Movie Awards – Elmer Higgins
External links