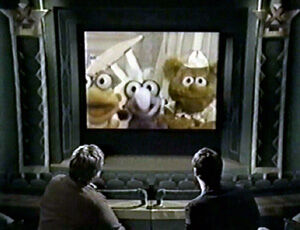 At the Movies is one of several incarnations of a movie review television program hosted by Roger Ebert and Gene Siskel.
Mentions
In the Summer of 1984, the show opened with the scene from The Muppets Take Manhattan with Miss Piggy and Joan Rivers. Later in the program, the two critics watch two more clips from the film and offer their review. Ebert notes that this outing is superior to The Great Muppet Caper, primarily because the Muppets are the starring characters this time rather than playing second fiddle to the celebrity guests.
Other Muppet/Henson movies reviewed by the duo included Buddy, The Witches, The Muppet Christmas Carol and Muppet Treasure Island.
References
Another incarnation of Siskel and Ebert's show called Sneak Previews was spoofed on Sesame Street as Sneak Peek Previews. Oscar and Telly sat in a movie theatre watching Sesame Street segments and offering their opinions. Siskel and Ebert even appeared in one segment to demonstrate their unique rating system.
See also
External links
Community content is available under
CC-BY-SA
unless otherwise noted.