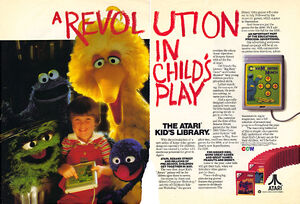 Atari was a video game company founded in 1972. The company is best known for producing the Atari 2600 in 1977, the first successful video game console with plug-in cartridges.
In 1983, Atari produced a line of four Sesame Street games for the Atari 2600: Big Bird's Egg Catch, Oscar's Trash Race, Cookie Monster Munch and Alpha Beam with Ernie. Two proposed Sesame games -- Grover's Music Maker and The Count's Castle were never produced.
Sesame Place's arcade attraction, The Game Centre, featured token-operated educational game machines, whose hardware was built by Atari.
Atari also produced a Muppet Show game in 1983, Pigs in Space. This was the last game produced for Atari's children's line. A second Muppet game, Miss Piggy's Wedding, was never produced. A Bunsen and Beaker game was also planned but never produced.[1]
References
Connections
Sources