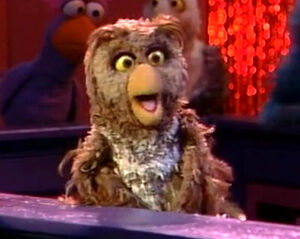 Athena is Hoots the Owl's granddaughter. She wants to be a singer when she grows up, and looks to Hoots for advice on how to be a great scat singer. She sometimes emcees at Birdland. According to Episode 2304, she bears a strong resemblance to her grandmother (Hoots' wife).
Athena appeared on Sesame Street in 1986, during season 18. In season 20, her black beak was replaced with a softer, yellow beak, and she was given orange pupils. The character was dropped following season 22 and the character became a utility puppet. She made an appearance in the crowd of the "Sing" finale of Sesame Street: 20 and Still Counting.
In Greek mythology, Athena was the goddess of wisdom, and she was often accompanied by an owl in artistic depictions.
Episodic appearances
See also