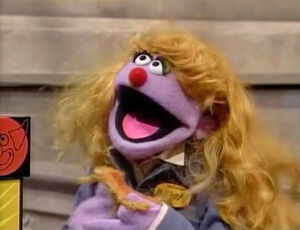 A courier for the Atlas Disguise Company appears on Sesame Street in Episode 3644.
Wearing a hat and jacket labeled "B. Swift" (EKA: Episode 1418), the courier arrives in the yard where Telly Monster has been waiting for the delivery of a secret disguise kit that he has ordered. The oversized box is wheeled in where the courier reads out the features of the kit as advertised:
Dress up to look like another person!
Listen to important conversations...
...While looking different!!!
Surprise your friends, fool your enemies, scare your dog!
As the courier — who has been speaking in a gruff voice thus far — begins to leave, Telly excitedly calls out, "Thank you, mister delivery man!" The courier turns back to the recipient and says, "Oh, I'm not a delivery man... it's a disguise! I am really...," the courier removes their cap to reveal a head of flowing, strawberry-blonde locks and tears off a fake beard, and finishes, "...a delivery woman!"
After she leaves, Telly is further emboldened to don a new identity and tells Freddy that he can't wait to look like a different person.