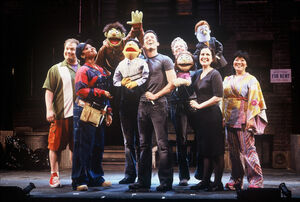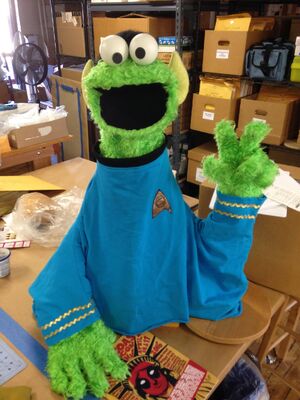 Avenue Q is a Broadway musical that mixes the likes of puppeteering and acting together on stage. It bases itself on a street where puppets and humans alike live together. It included in its original cast several veteran Muppeteers, including John Tartaglia, Stephanie D'Abruzzo, Rick Lyon and Jennifer Barnhart. It is a post-modern and Generation X-themed takeoff on Sesame Street.
The show won three Tony Awards in 2004 including the Tony Award for "Best Musical", and received a Grammy award nomination for Best Musical Show Album. At the time of its closing in 2019, it was the twenty-fifth longest running show on Broadway.
Ed Christie, the manager at The Muppet Workshop in New York at the time, commented:[2]
"After the workshop (pre-Broadway) performances of Avenue Q, the Henson company held a meeting with Jeff Marx and Bobby Lopez and Rick Lyon. The Henson reps tried to get a handle on the intentions of the show and tried to discourage the Avenue Q team from using their "Muppety" designs - so close to the copyrighted designs that they (Henson) had developed over the past 35 years (and Mr. Lyon was exposed to, as he was one of their puppeteers). The Avenue Q group refused to back down - claiming that they were protected under the parody laws (like Saturday Night Live is). Lopez, Marx and Lyon explained that the show would not be successful if the characters did not resemble the characters they were spoofing. Lawyers for Henson and Sesame Workshop were able to come to an agreement with the Avenue Q group. Rick Lyon built the characters as he wished and Avenue Q made it to Broadway."
Muppet Mentions
One of the musical's songs is called "Mix Tape". In this song, Princeton (originally played by John Tartaglia) gives Kate Monster (originally played by Stephanie D'Abruzzo) a mix tape, on which one of the songs is "Movin' Right Along".
On May 4, 2010, the then-current cast created a video (YouTube) performing Queen's "We Will Rock You" and "We Are the Champions" in a response to the hit "Bohemian Rhapsody" viral video, and includes a brief audio snippet from the Muppets' version.
References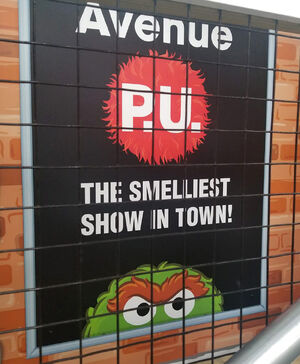 Connections
Sources
External links