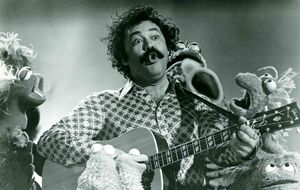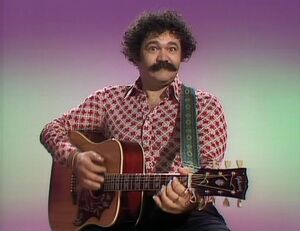 Avery Schreiber (1935-2002) was an American comedian and actor. In the 1960s and 1970s, he partnered with Jack Burns as Burns and Schreiber, and the pair appeared with Rowlf on the variety series Our Place in 1967.
In 1976, Burns led the writing team for The Muppet Show's first season; Schreiber made an appearance as the guest star of episode 116.
In addition to numerous appearances with Burns on The Ed Sullivan Show and The Hollywood Palace, Schreiber performed solo on the sitcom My Mother the Car (as villainous car collector Captain Manzini), the Hanna-Barbera series Wake, Rattle & Roll (as Grandpa Quirk), and guest starred on Get Smart, The Love Boat, Chico and the Man, Saved by the Bell, the 1985 The Twilight Zone revival, and Becker.
Schreiber's film credits included Don't Drink the Water, Caveman (with Ringo Starr and Dennis Quaid), Scavenger Hunt, Hunk (with James Coco), and cameos in the Mel Brooks' films Robin Hood: Men in Tights and Dracula: Dead and Loving It. As a voice actor, Schreiber was heard on The Smurfs, Thundarr the Barbarian, DuckTales, and reunited with Jack Burns on Animaniacs (as Beanie the Bison, with Burns as Sid the Squid).
External links
Community content is available under
CC-BY-SA
unless otherwise noted.