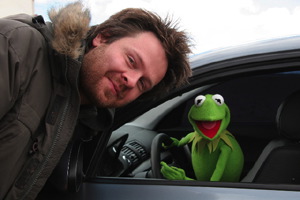 BMW is a German car manufacturer. Both The Muppets and Sesame Street characters have appeared in commercials for the company over the years.
2005
In 2005, Kermit the Frog appeared in two similar German commercials promoting the new BMW-1, which were accompanied by several ads in print and online.
The first commercial featured Kermit driving the vehicle in a desert, being stopped by a live frog crossing the road, yelling "Hey fella, get out of the road!" and "Pedestrians." The German dub alters the joke, so Kermit mutters "Sheesh, frogs!" The second variant had Kermit merely stop to passionately kiss the steering wheel. The featured soundtrack on each of the commercials was "Limbo Rock".
The commercials were shot in Calvinia, South Africa. A making-of was simulcast on about eight German TV-channels in May of 2005; several scenes featuring Kermit and Steve Whitmire included.
Spots and Ads
Credits
Trivia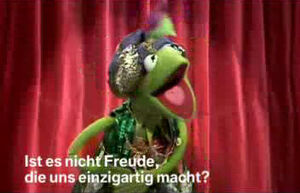 2015
A decade later in 2015, Cookie Monster appeared in four commercials for the BMW-1 that were produced for online use only. The commercials were shot in Barcelona, Spain.
Spots
Credits
External links
Community content is available under
CC-BY-SA
unless otherwise noted.