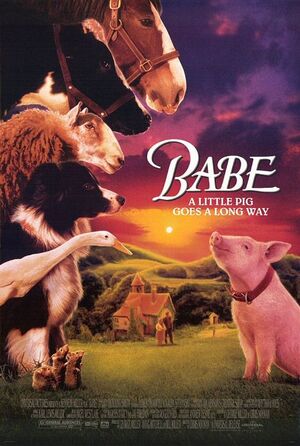 | | |
| --- | --- |
| Released | 1995 |
| Duration | 89 minutes |
| Director | Chris Noonan |
| Written by | Dick King-Smith (novel The Sheep Pig), George Miller & Chris Noonan (screenplay) |
| Studio | Universal Studios |
| Rated | G |
Babe is a 1995 movie based on the novel The Sheep Pig (published in America as Babe: The Gallant Pig). In addition to the use of live animals, Jim Henson's Creature Shop supplied realistic animatronic animals for Babe (approximately 50% of the total shots), Ferdinand the Duck (approximately 50% of the total shots), Fly and Rex the sheepdogs (approximately 10% of the total shots), Duchess the Cat (approximately 90% of the total shots), and the Singing Mice (100% of the total shots). Standing, sitting and lying models were created, as well as hand-puppet versions for certain scenes. John Cox's Creature Workshop supplied the sheep, and Rhythm and Hues created the CGI lipsync of the real animals.
The 1998 sequel, Babe: Pig in the City, was made without Creature Shop involvement.
The film won an Academy Award for Best Visual Effects, with the Creature Shop's Neal Scanlan sharing with visual effects supervisors from other studios.
Cast
James Cromwell as Farmer Arthur Hoggett
Magda Szubanski as Mrs. Esme Hoggett
Zoe Burton as Daughter
Paul Goddard as Son-in-Law
Wade Hayward as Grandson
Brittany Byrnes as Granddaughter
Mary Acres as Valda
Marshall Napier as Chairman of Judges
Christine Cavanaugh as

Babe

Miriam Margolyes as

Fly

Hugo Weaving as Rex
Miriam Flynn as Maa
Russi Taylor as

Duchess

Evelyn Krape as Old Ewe
Michael Edward-Stevens as Horse
Charles Bartlett as Cow
Paul Livingston as Rooster
Roscoe Lee Browne as Narrator
Credits
Trivia
In media coverage of the film, and the Creature Shop's involvement, inevitable comparisons were made to the most famous puppet pig:
References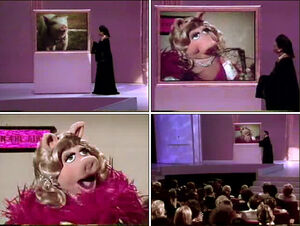 During the 68th Academy Awards that were held on March 25, 1996, Miss Piggy intercepts a video conference uplink between host Whoopi Goldberg and nominee Babe in order to assert her porcine ranking in Hollywood by offering to save the show with one of her sensational production numbers she titles "Porkahontas," but instead the audience is saved by the recovery of the initial connection.
On November 12, 1996, Kermit appeared on the Tonight Show with Jay Leno. He mentioned that Miss Piggy was giving him a tough time since Babe came out and got nominated for an Academy Award. He also explains that he felt a strange attraction to the film.
Sources
↑ Snead, Elizabeth. "Hog Wild on the Babe Set." USA Today, August 8, 1995.
External Links