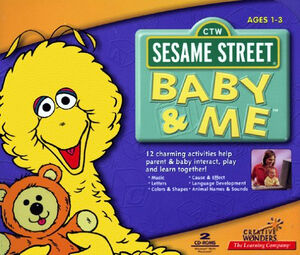 Baby & Me is a Sesame Street CD-ROM game released in 1999 by the Children's Television Workshop and Creative Wonders; it was the last Sesame Street game to be released under the label.
It was re-released by The Learning Company and Sesame Workshop in 2000 and again in 2002 as Sesame Street: Baby. In 2003, the later reissue was released in a deluxe edition which also included Elmo's World: Shoes, Bugs & Farms! and Elmo's World: Pets, Food & Telephones!. In 2007, the game was once again reissued as First Steps.
Ernie, Elmo, Big Bird, Zoe and Baby Natasha encourage the user to come play with them in many games and activities.
Releases
Contents
Letters, Shapes and Numbers
Peek-A-Boo
Elmo's Goofy Gallery
Animal Sounds
Do What I Do Games
Do What I Do Songs
Coloring Book
Musical Rooms
Seasons
Turn on the Toys
Screenshots