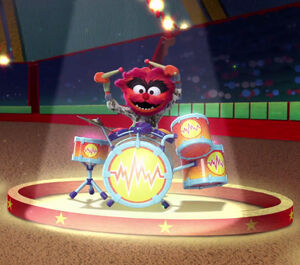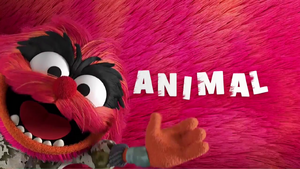 Baby Animal, the most unruly of the title characters on Muppet Babies, is an infant version of Animal. He and Skeeter are the only main characters who did not appear in Muppet form in the dream sequence from The Muppets Take Manhattan, which launched the series, though a Baby Animal Muppet was later built for the TV special A Muppet Family Christmas.
Baby Animal appeared in the ending tag of each Muppet Babies episode, which included such appearances as breaking out of an egg or hanging on behind an airplane. These antics always involved Baby Gonzo being hurt or humiliated in some way, and, on a few occasions, others as well. His trademark line was "Go bye-bye!" He also had a distinctive laugh which followed, "Yaabababababababa!"
In the early seasons, Animal had thick eyelashes all around his eyes and his face would sometimes turn orange as a result of ink and paint errors. By the third season, Animal's design and animation became more consistent; his face was always pink and the eyelashes were only on the tips of his eyelids.
Community content is available under
CC-BY-SA
unless otherwise noted.