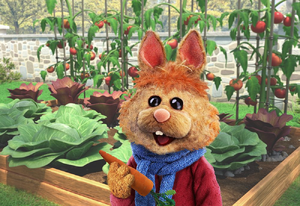 Baby Bean Bunny appeared in the last two seasons of Muppet Babies as a baby version of Bean Bunny. He joined the other babies in the nursery, and often appeared innocent and rather naive in contrast to the others. According to the episode "The Transcontinental Whoo-Whoo," Baby Bean Bunny is one of the only characters who is toilet-trained. In contrast to his puppet counterpart, Bean has bright blue eyes, instead of black button eyes.
In the Muppet Babies canon, Bean is the same age as the others, whereas in the regular "adult" Muppet canon, he's much younger than the other Muppets.
Baby Bean is the only post-Muppet Show character to appear in both pre-teen and adult form.
Bean appears as one of the many pictures in the play room of the 2018 reboot series. His photo replaces Baby Swedish Chef's in the second season.
Appearances
Book appearances