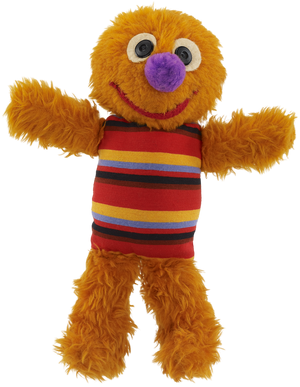 Baby David, an orange monster-like doll, is one of Elmo's favorite toys. Elmo first shows Baby David in Sesame Street Episode 2256;[1] he names the toy after David, the proprietor of Hooper's Store at the time. Baby David can often be seen laying around in the background on the floor in Elmo's World and several Elmo's World books.
In a 2011 web video, Elmo reveals that he traded in his binky for Baby David. (YouTube) In Family Forever: A Julia Storybook, Elmo mentions having once lost Baby David, sympathizing with Julia when she loses her own favorite toy, Fluffster the bunny.
Baby David is present in the first season of The Not-Too-Late Show with Elmo, seen on Elmo's desk and appearing in the outro of every episode.
Sesame Place's Neighborhood Street Party has Baby David on a parade float.
Appearances
Segments
Book appearances
Merchandise
See also
Sources