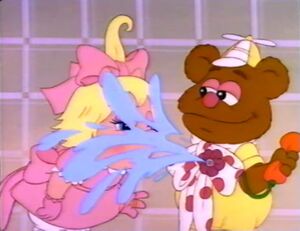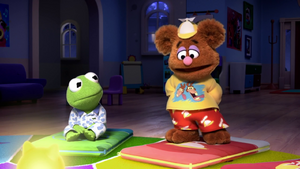 Baby Fozzie is the Muppet Babies version of Fozzie Bear.
As a baby, he combines his adult-self's tie with an infant's onesie and a childish propeller hat. He usually carries a teddy bear with him (called Teddy).
He wants to be a famous stand-up comedian when he grows up. Fozzie often seems naive, and his jokes aren't always funny, but his friends like him anyway. He is also somewhat of a coward, for he is afraid of ghosts, monsters, thunder and lightning, and swimming, among other things.
A running gag in the show often involves Fozzie telling a bad joke (often involving chickens crossing the road), only to get booed at and have one or more tomatoes thrown in his face.
Muppet Babies reboot
For the 2018 reboot series Muppet Babies, Baby Fozzie has been slightly redesigned. The CGI-nature of the show allows for a more puppet-like look by texturing the characters' skin and fur by imitating their respective fabric structures. The redesign provides Baby Fozzie with a truly fuzzy body and slightly larger ears. He retains his yellow onesie, possibly a tucked-in t-shirt, but wears red cargo shorts.
In the reboot, his jokes are met with less derision, and are generally more appreciated by his friends, but his insecurities remain an addressed character trait. This is seen in the episode "Wocka by Fozzie," which deals with the question whether he feels ready for sleepovers, as well as episodes such as "Frogs of a Feather," "The Best, Best Friend" and "Frog Scouts," in which Fozzie worries about and questions if he can remain Baby Kermit's best friend when new characters and unfamiliar topics are introduced.
Some of his favorite fictional characters are the animated movie stars The Wacky Alpaca Pals, with Fozzie owning a lunchbox and a pajama shirt adorned with their likenesses.
See also