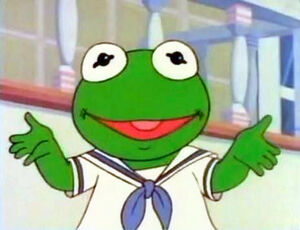 Baby Kermit is the Muppet Babies version of Kermit the Frog.
In contrast to the often-undressed adult Kermit, Baby Kermit always wears a sailor suit, a reference to his amphibious nature. In some early iterations, a rarely seen short, rounded collar can be seen, mirroring his adult self's trademark zigzag collar.
As imagination is one of the Muppet Babies' key components, Baby Kermit has assumed many fantasy roles including Popeye (in "The Great Muppet Cartoon Show"), Charlie Brown (in "Comic Capers"), Indiana Jones (several episodes), Captain Kirkmit (several episodes), James Bond (in "The Frog Who Knew Too Much"), Robin Hood (in "By the Book"), Donatello (in "Sing a Song of Superheroes"), Leonardo da Frog (in "Scooter's Hidden Talent"), and Kermlock Holmes (in Muppet Babies issue #13).
Baby Kermit, along with Baby Piggy and Baby Gonzo, made a special appearance in Cartoon All-Stars to the Rescue.
Muppet Babies reboot
For the 2018 reboot series Muppet Babies, while probably being the main character that stays the most true to his cel-animated self, Baby Kermit has been slightly redesigned. The CGI-nature of the show allows for a more puppet-like look by texturing the characters' skin by imitating their respective fabric structures.
Baby Kermit's traditional sailor outfit is slightly modified, removing the sailor's collar and knot, giving him a casual short-sleeved dress shirt instead, branded on the chest with a small image of a frog (similar to the Lacoste brand alligator). His short, blue pants remain.
His favorite toy is the Mega Super Ultra Robo Space Dinosaur, a red-and-yellow, robotic dinosaur that he even cuddles up with in bed.
Book appearances
Baby Kermit appears in nearly every Muppet Babies book; the following are some titles in which he features prominently:
See also