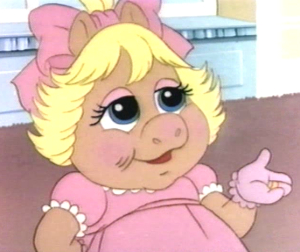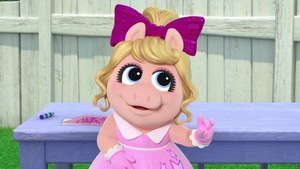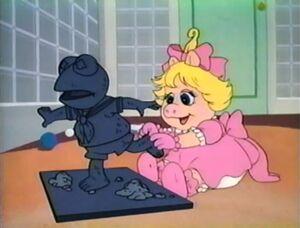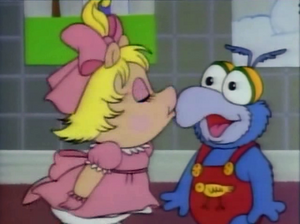 Baby Piggy is a character on Muppet Babies, a baby version of Miss Piggy.
Baby Piggy has a bad temper, and often flies off the handle. She frequently fends off the unwanted affection of Baby Gonzo, while expressing interest in Baby Kermit. She also frequently engages in a rivalry with Baby Skeeter, the only other girl in the nursery. Sometimes she will carry her doll with her that is simply known as Dolly.
Baby Piggy frequently longs to be a movie star in Hollywood when she grows up; it was even the main plot of an entire episode. Like the adult Miss Piggy, she often refers to herself as "moi," and when excited she usually says "Yippee-skippee!"
Baby Piggy, along with Kermit and Gonzo, made a special appearance in Cartoon All-Stars to the Rescue.
Muppet Babies reboot
For the 2018 reboot series Muppet Babies, Baby Piggy has been redesigned. The CGI-nature of the show allows for a more puppet-like look by texturing the characters' skin by imitating their respective fabric structures; in Piggy's case her skin looks flocked, modeled after her adult-self. Her blonde hair flows longer, with the loose strands slightly curling up toward the tips.
She still wears her pink gloves and a redesigned sleeveless pink signature dress, donning three star shapes on one side. She retains a pink bow, though its material is a darker, sparkly hot pink. Her shoes mirror this darker, sparkly look.
While still adding the character's trademark "faux French" to her language, her "Yippee-skippee!" has been entirely replaced by a penchant to try to make and label everything "fabulous," even going so far as to naming her own recurring superhero persona "Super Fabulous."
Relationships with other characters
Baby Kermit: Piggy is in love with Kermit and will express this in a number of ways, one of them being try to make him into the hero (although she usually ends up fighting the monster or saving herself).
Baby Gonzo: On the original show, Baby Gonzo's crush on Baby Piggy is often a recurring theme in episodes and source for comedy. Gonzo will try to impress Piggy (but usually fails) by doing something heroic and often when he thinks he has been successful, he will close his eyes and stick out his lips, but this almost always results in Piggy squeezing his nose.
See also