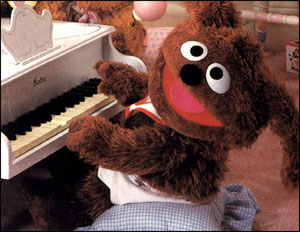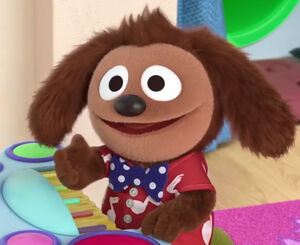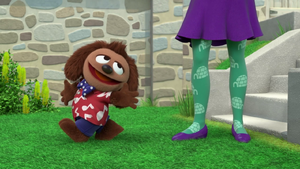 Baby Rowlf is the Muppet Babies version of Rowlf the Dog.
Baby Rowlf was the straight man on Muppet Babies, true to his adult character. Not as wild or crazy as his peers, the brown puppy was not as prominently featured in the show as much as Baby Kermit, Baby Piggy, or Baby Gonzo. While the other Babies would initiate adventures via their imaginations, Baby Rowlf would usually just tag along for the ride.
Though Baby Rowlf was not a master of witty puns as of yet, there were still hints of the sophisticated canine Muppet he would grow up to become. Laid back and cool, the puns were left up to Baby Fozzie, but Baby Rowlf was never above pointing out his canine nature and the ups and downs that came with it (ie, having fleas, not being able to read, and the advantages of eating with one's face in one's bowl).
The adult Rowlf's history was also alluded to in the episode "The Muppet Broadcasting Company." The episode begins with the Babies having set up an intricate domino track, and arguing over which one would knock over the first domino. Baby Rowlf reasoned that he should knock over the first domino because he was the oldest; an allusion to Rowlf's status as the first well-known Muppet to achieve national stardom, even predating Kermit the Frog.
Baby Rowlf's role was of course that of the Nursery's resident musician, often leading the others into on-the-spot songbreaks, with his ever present toy piano.
In the Disney Channel reboot of Muppet Babies, Rowlf made his debut in "The Best, Best Friend". In the new show, Baby Rowlf looks, sounds, and acts much more similar to his adult counterpart, though with a lighter face and a more pronounced Southern accent.
See also
Community content is available under
CC-BY-SA
unless otherwise noted.