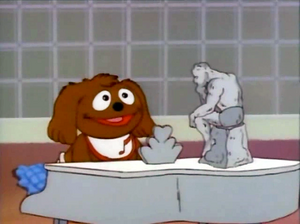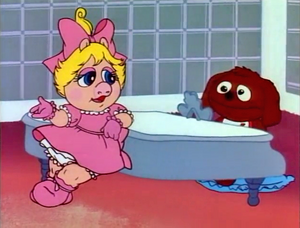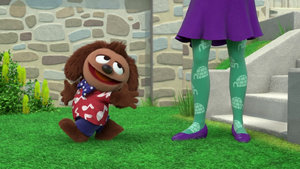 Baby Rowlf is the Muppet Babies version of Rowlf the Dog, appearing in animated form after his puppet debut.
Baby Rowlf is generally more laid back than the other babies (similar to the straight man role his adult version serves on The Muppet Show). This certain kind of ease might be supported by the fact that he wears diapers, as well as a white bib (donning a single red musical note) for spills. Unlike his adult counterpart whose mouth is entirely black on the inside (aside for the extremely rare occasion that he shows his tongue), every other age variation of the character displays a red mouth with a pink tongue.
Though Baby Rowlf is not a master of witty puns as of yet, there are still hints of the sophisticated canine Muppet he would grow up to become. The puns are left up to Baby Fozzie, but Baby Rowlf is never above pointing out his canine nature and the ups and downs that come with it (e.g., having fleas and the advantages of eating with one's face in one's bowl).
Baby Rowlf's role is of course that of the Nursery's resident musician, often leading the others into on-the-spot song breaks, with his ever present toy piano. In the episode "The Muppet Broadcasting Company," a comment by the pooch establishes him as being the oldest of the Muppet Babies.
Muppet Babies reboot
Not being a main character on the 2018 reboot series Muppet Babies, Baby Rowlf made his first, redesigned appearance toward the end of the first season, when he is introduced as a yet unknown guest to the characters. He makes his debut in the episode "The Best, Best Friend."
The CGI-nature of the show allows for a more puppet-like look by texturing the characters' skin and fur by imitating their respective fabric structures. The redesign provides Baby Rowlf with fuzzier fur and a slicked point on top of his head, as well as a lighter brown face that is more in line with his adult self's design.
The reboot changes his diapers and bib for a red button-down shirt with white musical notes, a blue tie with white polka dots, and blue pants.
Rowlf now also sounds, and acts similar to his adult counterpart, and speaks with a more pronounced Southern accent.
Filmography