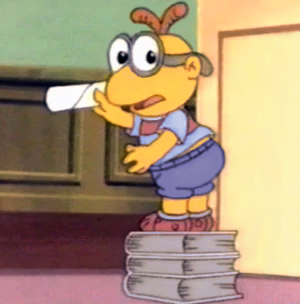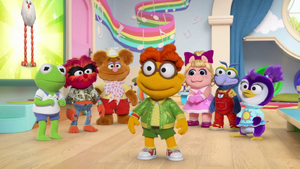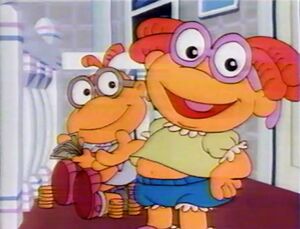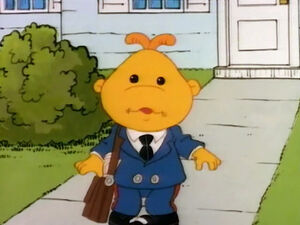 Baby Scooter is the Muppet Babies version of Scooter, after his puppet debut.
In contrast to the eager young "gofer" on The Muppet Show, Baby Scooter is an intellectual computer nerd, able to look up anything on his (pre-mainstream Internet) database. His twin sister is the more athletic Skeeter. The episode "Gonzo's Video Show" reveals that he is older than his sister, but "only by a minute."
Scooter's only sprouted two strands of his yarn-like hair at this age, and regularly wears his big, brown-framed glasses, but is occasionally seen without them, exposing his small, black button-eyes.
Muppet Babies reboot
Not being a main character on the 2018 reboot series Muppet Babies, a photograph of twin babies Scooter and Skeeter could been seen in Miss Nanny's house since the reboot's first season. Baby Scooter, along with Skeeter, makes his first full-fledged appearance in the series' second season episode "Win a Twin / Skeeter and the Super Girls."[1] And although the other babies could have been familiar with the twins from the photograph, the characters react confused when introduced to Scooter and Skeeter, and the entire concept of identical twin siblings.
The CGI-nature of the show allows for a more puppet-like look by texturing the characters' skin by imitating their respective fabric structures. The redesign provides Baby Scooter with a thicker head and jaw, as well as a much fuller head of truly yarn-like hair.
This version of the character wears a shiny-green and yellow track jacket like the one his adult counterpart wore on The Muppet Show, as well as a brown belt and short, green pants, a yellow, symmetrically-patterned sweater vest and a light blue undershirt, yellow socks and red and white sneakers. To harken back to his previous computer-nerd persona, he also wears a digital watch.
Filmography
Sources