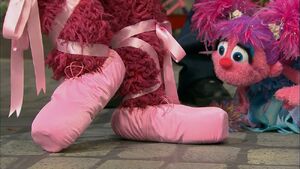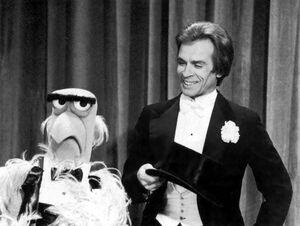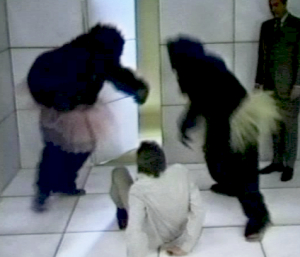 The Muppets
The Muppet Show
New York City Ballet dancer Suzanne Farrell appeared in several segments beginning in the late 1970s.
Ballet-dancing yaks show their fronts and backs in an animated segment. (First: Episode 3016)
The 1998-2002 Sesame Street opening sequence included footage of Big Bird using a crosswalk, followed by girls in tutus. In Episode 3851, Zoe interrupts the opening, to point this footage out, mentioning that the episode focuses on dance.
In a 2000 episode, episode 3851, the Street scene focuses in on a dance party on Sesame Street. Zoe demonstrates her ballet moves for Elmo, and a sequence of the New York City Ballet is shown. When Elmo sees Miles and Gabi playing basketball, their movement leads to another sequence. A latter ballet sequence is sparked by seeing the Three Bears, a stretching dance done by Tarah and Stinky, and Big Bird's turning dance. The ballet segments were performed by Maria Kowroski, Aosha Ash, Eva Natanya, Albert Evans, Nikolaj Hübbe, Jock Soto, under the direction of Mary Perillo, with choreography by Sean Lavery.
Two additional segments with Jock Soto and Lourdes López appeared in 1997: in the first, the duo dance to demonstrate cooperation, with Elmo and Zoe;(First: Episode 3621) the other has them demonstrate up and down for Big Bird. (First: Episode 3622)
Sesame Street spoofed the ballet film Black Swan with "Big Swan."
Miscellaneous
The Cube: The Man in the Cube is allowed by the manager to leave. The man sarcastically predicts that the moment he steps outside the door, "two gorillas grab me, dressed in ballet costumes, drag me back, throw me on the floor, and dance around me singing "Home Sweet Home!" Which is precisely what happens.
Before joining the Muppets, designer/builder Kermit Love's best known work was as costuming work for the Jerome Robbins ballet Fancy Free in 1946.
In 2005, Desiree Casado was taking ballet classes.
Community content is available under
CC-BY-SA
unless otherwise noted.