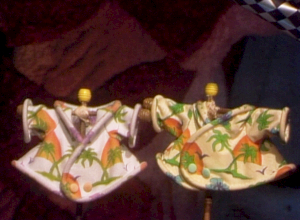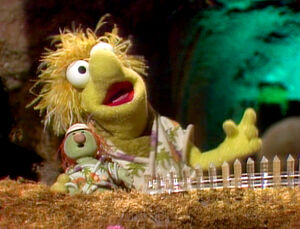 Banana Tree Shirts are a variety of open-necked, tropically-themed garment closely associated with Wembley Fraggle on Fraggle Rock. Wembley claims to own only two banana tree shirts, and complains in "Doomsday Soup" that his spare shirt is so dirty, the banana trees are starting to grow.
Each year on Trophy Day, Wembley also accepts a trophy for Best Shirt with Banana Trees on It. Though the market for this variety of leisure-wear would seem to be exclusive to Wembley, the Wizard goes into business as a banana tree shirt salesman in "The Wizard of Fraggle Rock."
In "The Secret of Convincing John," Convincing John compels Wembley to choose between a white shirt with banana trees on it and a beige/brown shirt. John's own wardrobe is similarly limited, including two identical suit jackets.
Near the end of the episode "A Tune for Two", Cotterpin Doozer can be seen wearing a banana tree shirt similar in design to Wembley's, with the only difference being that hers is smaller to accommodate her size, as Doozers are 1/10 of the size of a Fraggle. Wembley, in return, can be seen wearing a visor similar to Cotterpin's.
Community content is available under
CC-BY-SA
unless otherwise noted.