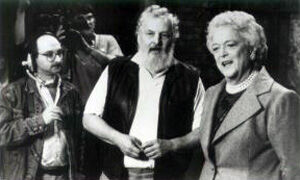 Barbara Bush (1925-2018) was a First Lady of the United States of America.
She appeared on Sesame Street in Episode 2660 with Big Bird, the Count, and the Kids, reading Peter's Chair. She also appeared in a celebrity montage singing "Sing" in the documentary Sing! Sesame Street Remembers Joe Raposo and His Music.
Barbara Bush was the first First Lady to appear on Sesame Street; Hillary Clinton, Laura Bush, and Michelle Obama have since followed her lead.
Bush contributed a "Bologna for a Cocktail Buffet" recipe for the 1996 cookbook, In the Kitchen with Miss Piggy. She appeared with her husband, former President George H. W. Bush, in a video introduction to the 1990 animated anti-drug television special Cartoon All-Stars to the Rescue.
Sesame Street Live characters have visited the Barbara Bush Children's Hospital/Maine Medical Center.
References