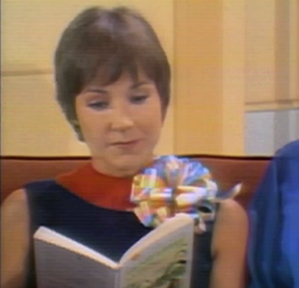 Barbara Dana (b. December 28, 1940) is an actress/writer who appeared on Sesame Street in the Larry and Phyllis sketches, beginning in Season 2. Her then-husband, Alan Arkin, played Larry.
Dana's other credits include appearances in several films with Arkin, including Inspector Clouseau, Popi, Fire Sale, and The In-Laws. On stage, she appeared in Enter Laughing? (with Arkin) and Where's Daddy? In 1988, she shifted from acting, focusing on writing (including the children's books Crazy Eights and Zucchini). She returned to performing after her 1999 divorce from Arkin, with guest spots on Law & Order and Law & Order: Special Victims Unit, and a co-starring role with Arkin and Austin Pendleton in the feature film Raising Flagg, which debuted on the art-house circuit in 2007.
External Links
Community content is available under
CC-BY-SA
unless otherwise noted.