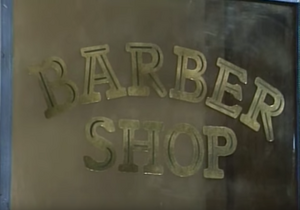 The Barber Shop is a business on Sesame Street. Its exact location and appearance have varied.
In Episode 2750, Mike and Uncle Wally accompany a fearful Telly to the Barber Shop at 130 Sesame Street. The Bookstore is next door.
The same configuration is repeated in Follow That Bird, where the Barber Shop is directly across the street from the entrance to Big Bird's nest and is between the Bookstore and the Harmony Music Shop.
Telly later joins Baby Bear, similarly apprehensive, when he and his dad visit Doug the barber at the Barber Shop in Episode 3834.
Other barber shops
Other barber shops also have appeared.
Honorable mentions