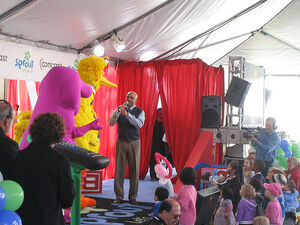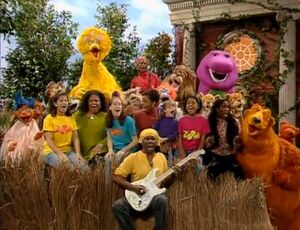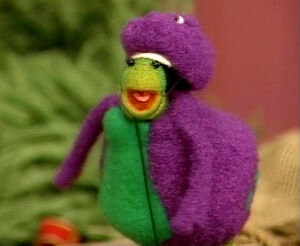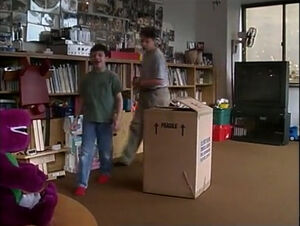 Barney & Friends is a non-Henson, children's television program starring a large, purple dinosaur named Barney. The show was spun off from a home video series and ran on PBS from 1992 until 2010, making it one of the network's longest-running children's shows after Sesame Street and Mister Rogers' Neighborhood.
Appearances
Barney appeared in the "We Are Family" music video, alongside Big Bird and Bear, asserting their kinship as large puppets whose names begin with B.
References
Similarly, Bonnie Rabbit is acknowledged as "the Barney of Bunnies" in the script for the Sesame Street "Home Hopping Network" sketch. (First: Episode 3238)
During an appearance on Friday Night Videos, Branford Marsalis asks Clifford how he joined the Muppets. Clifford replies that his choices were between them or "that big purple dinosaur." Marsalis assumes he means Barney, but Clifford corrects him, saying he meant Prince.
Teasing what's to come in Smithsonian Fantastic Journey, the narrator announces in the introduction that the special will feature, "The only Smithsonian artifact that can talk." Kermit the Frog appears on-screen and addresses the camera, "You were expecting maybe Barney?"
Sesame Street Episode 3856 celebrates Wormy Gras, a holiday for worms to celebrate all things wormy. Slimey has trouble deciding on what costume to wear, so Gabi helps him try on a Tyrannosaurus Rex finger puppet. When another worm passes by wearing a Barney costume (and humming the show's closing song), it's frightened away by the more ferocious-looking dinosaur. The worm appears later in the episode as part of the Wormy Gras parade; Baby Bear asks who that is supposed to be while Oscar scratches his head and replies, "I have no idea."
A Sesame Street film shows the life of a young handicapped girl named Cori. During the film, a Barney doll is seen in the family room. (First: Episode 3858)
During a 2009 appearance on The Tyra Show, Elmo says that his tux, seen in an event photo with Tyra Banks, was provided by Barney. Not the fashion designer, but the purple dinosaur. During a backstage interview at the Emmy Awards, Elmo tells a Soap Net reporter the opposite, that his tux is from the clothing store, not the dinosaur.[1]
In an Associated Press video "Big Bird: The Muppet Unmasked", Carroll Spinney rehearses a scene as Big Bird (without wearing the suit), ad-libbing "Don't watch Barney!" as he says goodbye.
Trivia
According to Noel MacNeal, "Bear was designed to be the anti-Barney. He was designed to be a voice that a grown person could actually sit through, while still being a show for kids."[2]
Connections
Sources